Skin Care Products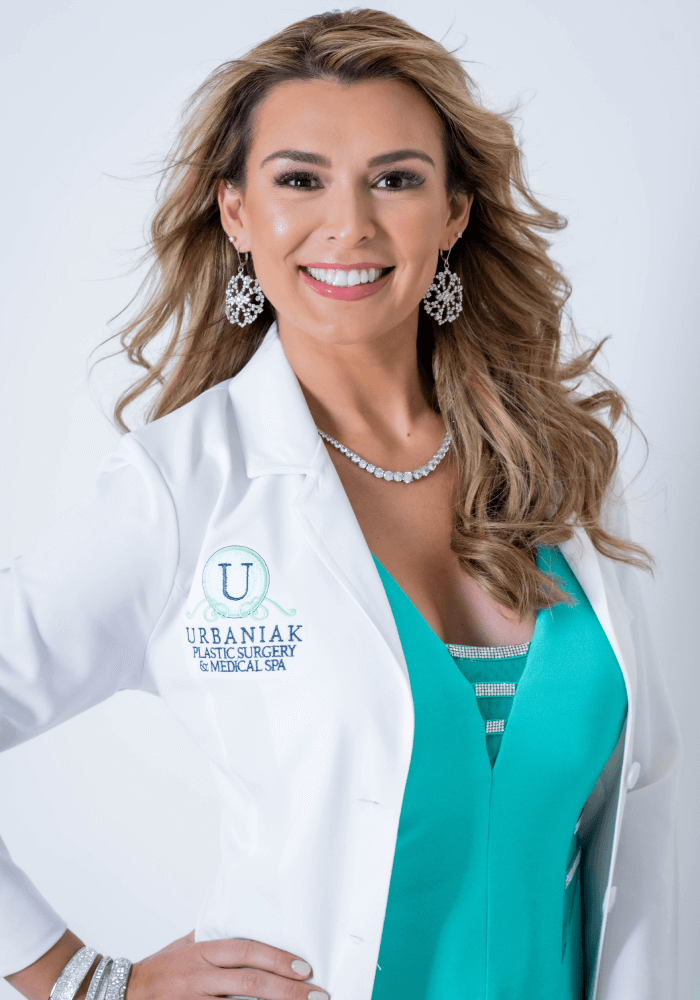 At Urbaniak Plastic Surgery, we are proud to carry the best skin care lines on the market! Best of all, you can have any of your favorite skin care products shipped directly to your house. Click below to submit your order via our contact form and we will have them sent right to your front door! It's quick, easy, and convenient!
ORDER URBANIAK SKIN MD
ORDER OTHER PRODUCTS
Skin Care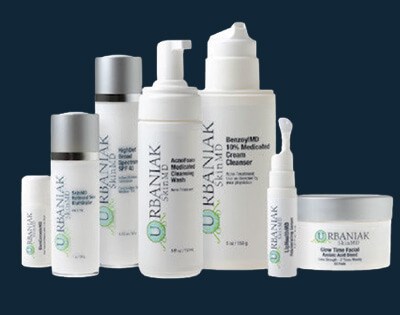 Skin Care:
Urbaniak Skin MD
Zo® Skin Health by Zein Obagi, MD
Jane Iredale Cosmetics
Alastin
NuFACE
Skinade®
Silagen
LED Light Therapy
HydraFacial®
Learn More About Our Top Brands
UrbaniakSkinMD
UrbaniakSkinMD was expertly formulated by Dr. Ginger Urbaniak to provide result-oriented medical grade skincare for all skin types and concerns. Each product packs innovative, powerful ingredients to address even the most troublesome skin concerns as well as further enhance your cosmetic procedures. UrbaniakSkinMD formulations were designed to support healthy, beautiful and radiant complexions. Purchase your very own custom cremes in our office or log onto ShopUrbaniakSkinMD to get your skin care essentials!
Zo® Skin Health
ZO Skin Health, Inc. develops and delivers innovative skincare solutions that optimize skin health based on the latest advances in skin therapy technologies, unique delivery systems, bioengineered complexes, and exclusive formulations. By providing comprehensive skincare programs for physicians and their patients, ZO Skin Health, Inc. bridges the gap between therapeutic treatments and daily care, allowing patients to experience continuously healthy skin regardless of their age, ethnicity or unique skin condition. If you have discoloration, melasma, depigmentation or blotchy skin, let our skin care specialists at Dr. Urbaniak's office design the plan that is right for you. The entire system costs less than a latte a day!
Jane Iredale Cosmetics
Clean ingredients. Powerful results. Your beauty uncompromised. Our nourishing supplements, natural skincare formulas and multitasking mineral makeup are high-performance, clean and cruelty-free—providing effective, targeted solutions for a healthy, radiant complexion.
Alastin
Alastin is an award-winning line of skincare products that incorporate powerful peptides and natural botanical extracts to nourish your skin, improving the appearance of fine lines and wrinkles while providing protection. Their patented TriHex Technology helps reduce the signs of aging and enhances the outcomes of cosmetic beauty treatments.
NuFACE
NuFACE is a cutting-edge line of at-home microcurrent treatment devices to help address wrinkles, sagging skin, and loss of contour on the face and body. Small but powerful, these devices are easy to use in the comfort of your home with treatments that get skin-smoothing results in as little as three minutes. When paired with their super antioxidant booster liquid, the results are amazing. Try the NuFACE Trinity, NuFACE Mini, NuFACE NuBODY, or NUFACE Fix.
Skinade®
Get better skin from within with a delicious beauty-enhancing drink from Skinade. Infused with six skin-regenerating ingredients, including collagen peptides, essential nutrients, and electrolytes, Skinade helps create healthy skin from the inside out. This great-tasting peach and mangosteen-flavored high-performance nutraceutical drink helps to boost the performance of your daily skincare routine for healthier, younger-looking skin.
Silagen
Silagen is the gold standard of post-procedure care for scars, bruising, and swelling. Silagen's silicone gel and strips work to flatten and soften raised scars, reducing their appearance and protecting sensitive scars while soothing redness and itching. For bruises and swelling, Silagen's Arnica-Bromelain Oral Supplement provides a mix of powerful natural compounds to help your body heal faster. Paired with their Topical Recovery Gel with pain-relieving anti-inflammatory action, you can dramatically reduce your recovery time.
LED Light Therapy
LED light therapy is a cutting-edge, 21st-century solution for skin conditions including acne, wrinkles, rosacea, and more. Called photobiomodulation, this technology was developed by NASA to accelerate cellular production and photosynthesis for growing plants in space. By using different wavelengths of light: blue, red, and violet, the light energy can help to eliminate harmful bacteria and stimulate the formation of new blood vessels, production of collagen, and ATP (adenosine triphosphate, the energy supply to your cells). This, in turn, can help to rejuvenate your skin for a healthier, more youthful appearance. It is safe, non-invasive, chemical-free, and effective.
HydraFacial®
A HydraFacial® is a nourishing rejuvenation treatment that can be customized to suit the unique needs of your skin. This is a unique system that provides medical-grade facials to improve the tone and health of your skin by customizing your treatment. Whether you're concerned with signs of aging, clogged pores, rough skin texture, or dry spots, board-certified physician Ginger L. Urbaniak, M.D. and her experienced team at Urbaniak Plastic Surgery will determine a unique HydraFacial treatment based on your skin type that addresses your needs and concerns.